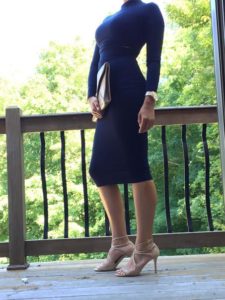 This Summer the "Two Piece" trend was a hit and looks like it will shift into Fall as well. This look came in all different patterns and cuts such as maxi skirts with crop tops to flowy shorts with halter-tops! What ever the combo was I needed to have!
Transitioning into Fall [I know scary to think about] it looks like the sold gem colors as well as sleek and minimalistic patterns are taking the spotlight thus far. Midi skirts to a high waist flared skirt paired with long sleeve or short sleeve crop tops seems to be the top cuts at this point too!
I found a great "Two Piece" set from [nakedwardrobe.com]. They had an awesome selection of solid rich colors to choose from. As I was browsing my eyes went straight for their midi skirt & long sleeve crop top in a luxurious dark navy! When it came in I was pleasantly surprised by the fit. The bodycon style fit like a glove and wasn't at all uncomfortable. I went with a small too! This outfit is not only comfortable but I can see myself wearing it for multiple occasions. For example, I could wear it to dinner with the girls, to a wedding, or even during market week. I paired it with my Nude Jimmy Choo Ivettes from [walinandwolff.com] which are so comfortable & a chic nude clutch that I bought in the leather markets in Italy last year. This went together effortlessly. Even though I'm in love with this look I can see myself doing other combos as well and that's what's so great about this outfit.