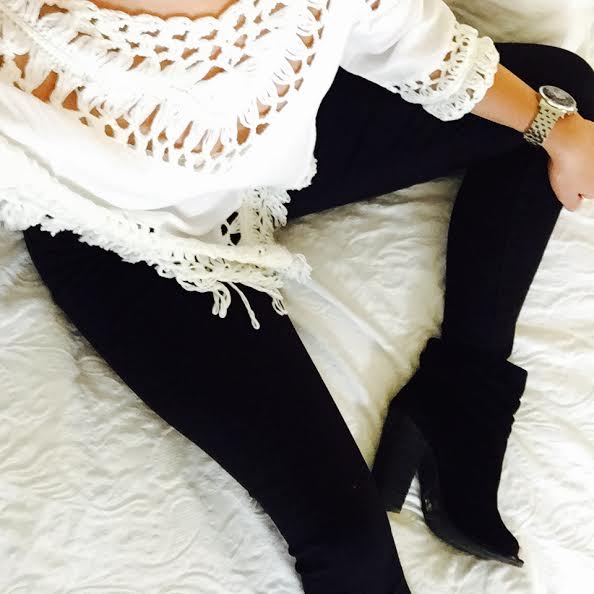 Today was another beautiful Sunday to go out and enjoy the weather before it starts to rain or get cold. What better way to spend a day like this than go to brunch! Today I ventured to a great spot in Armonk, NY called [The Beehive]. My friend has been telling me to come with her for so long and I don't know why I waited this long; it was so good! They are known for their amazing Bloody Mary's with a strip of bacon in it as well as their cozy comfort breakfast options. If you are by the area I'd defiantly suggest stopping in!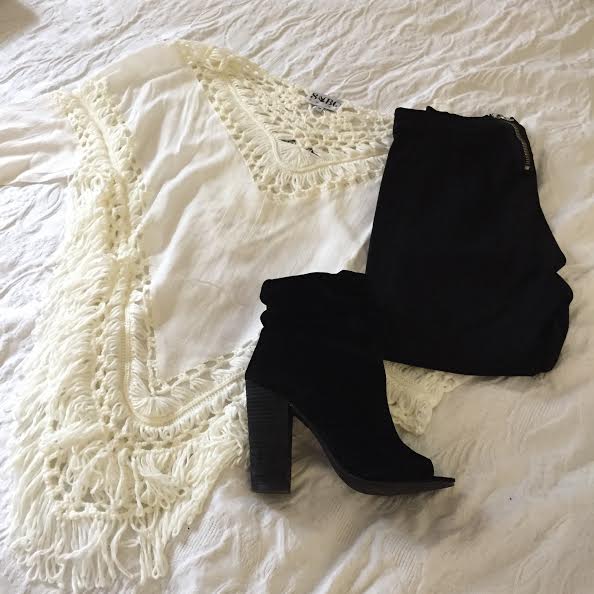 But no brunch is perfect unless you look the part. Today I decided was a great day to embrace the fringe trend! I bought this fabulous top back in July from [Sabo Skirt] and I'm so happy I did. The unique triangle body is comfortable and the fringe trim adds a fun attitude to the top. I bought it in a medium because the sides are higher so I didn't want my stomach fully out and I wanted it to sit off the shoulder. I'm happy I did too because their items do run on the smaller size. I paired this top with a pair of black [Evelyn High Waisted Hudson Jeans] that have the zipper on the back. I thought this was a cool and unique feature to the jeans and I had to have them. I bought them on [Gilt] for a great price too. Hudson Jeans in my experience have a lot of stretch so you can go down a size. These are a great pair if you like wearing jeans but want something not as casual as a jean look. Lastly shoes, my favorite part! I ordered a pair of [Peep Toe Booties] the other week and they are now a Fall essential for me. A peep toe bootie is a great versatile option when you're in a transition period with seasons. These booties have a 4" heel but they honestly don't feel that high and they are true to size! I can't wait to wear them with multiple looks as well.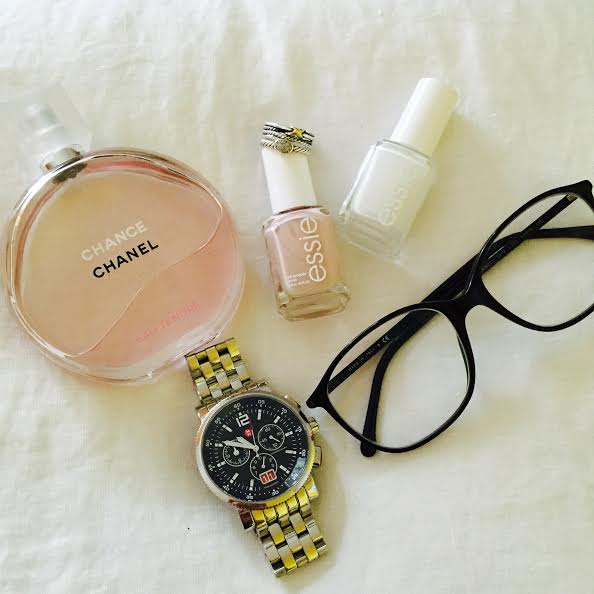 The small details that people don't think about though like your perfume, nail polish & jewelry is really what tied this outfit together. My go to fragrance is Chanel Chance Eau Tendre. This frangrance is fresh, light & very feminine. Also I never leave the house without a watch and I have a weird obsession with [Michele Watches]. I love the big faces they offer and the fact that you can interchange the face and bands. It gets expensive but I think it's worth it. Another must have are my [David Yurman] rings. I like the simplicity of the rings and how I can pretty much wear them with any look. Lastly a nice fresh coat of nail polish is a great way to finish any look!