As we think about all our holiday parties of course we are thinking of our outfits and what better outfit than some sweater dresses paired with some killer OTK boots! Read more to learn and see all our looks…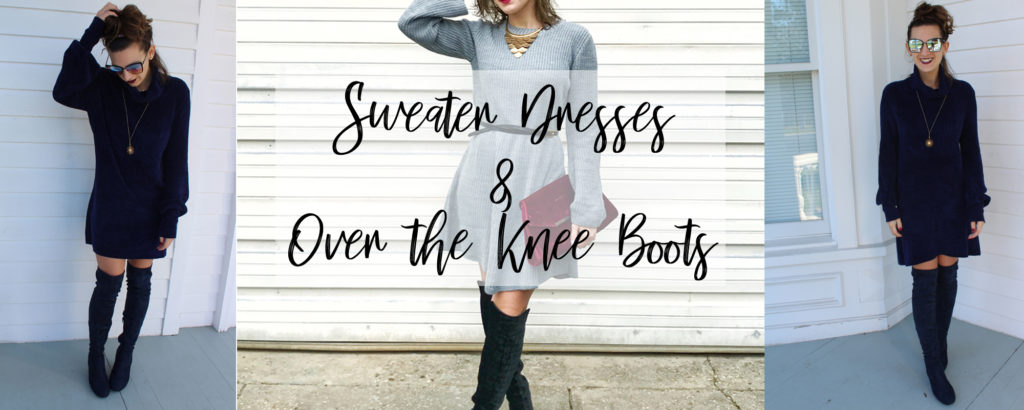 Our new favorite outfit combo are sweater dresses & over the knee boots. We really think this combo looks great for work or even any upcoming Holiday parties. There are so many cute options and ways to play some of these super simple ones and thats what we want to talk about here.
The first type of sweater dress is a loose fit, where sometimes it looks like you are wearing a sack of potatoes. Don't be discouraged though, there are ways to make this comfy option look chic. One would be to belt it and another would be dress it up with a fun blazer or vest. These items will create an automatic shape for you! Another option is the tight sweater dress fit. This looks amazing with a heeled over the knee boot and a statement necklace. We highly recommend saving this option for your holiday party too. One option we love is actually an off the shoulder one too which you can find here or below & this chic pattern one here by Eliza J! Both these options are a tighter knit and not a typical sweater dress but still has the same vibe!
This season we see a lot of these dresses not in your typical knit fabric or typical silhouette styles either. This is probably why we are so attracted to them again. But all the different sleeve variations from bell sleeve to ruffle to a puff, really adds a wow factor and makes it special to wear to an event or work. Also the fabric like a thick knit to velvet really give it a luxe look so you don't have to worry about dressing it up too much. Now the finishing touch by just adding a OTK boot and you are set!
There are so many over the knee boot options these day too and we listed some of our favorites below. But now you can match your color like how we did with our all blue look or you can get something with more detail like fringe or embroidery. No matter what your boots will enhance this look and you'll be complimented all night, we guarantee :)!
SHOP THE POST
Sweater Dresses:

OTK Boots: