No closet is complete without a few good pairs of jeans. When deciding what to wear on our bottom half there is a high chance that most of us will go with jeans (or sometimes leggings). All of the different styles of jeans are never ending, but it is likely that everyones jean collection has a few select favorites that are worn all the time.
As with most pants, it takes time to find the right fit. Once you find that one pair that fits you perfectly you don't want to wear anything else. The below pair of Hudson jeans are more of a statement pair with the bold leather patch work. Sometimes when wearing them people mistake the leather for shoes and once they notice that they are part of the jeans they love how different and bold they are. Jeans are a wardrobe essential and sometimes it can be hard to find ways to style them differently, which is why we styled one pair three different ways below.
Wear a Fun Bodysuit
Since these jeans are so fitted it is fun to add a fun bodysuit. The bodysuit really outlines your figure and shows off your trendy style. We chose a mesh bodysuit with a leather jacket. The leather jacket complements the jeans and the bodysuit adds a little pop of color.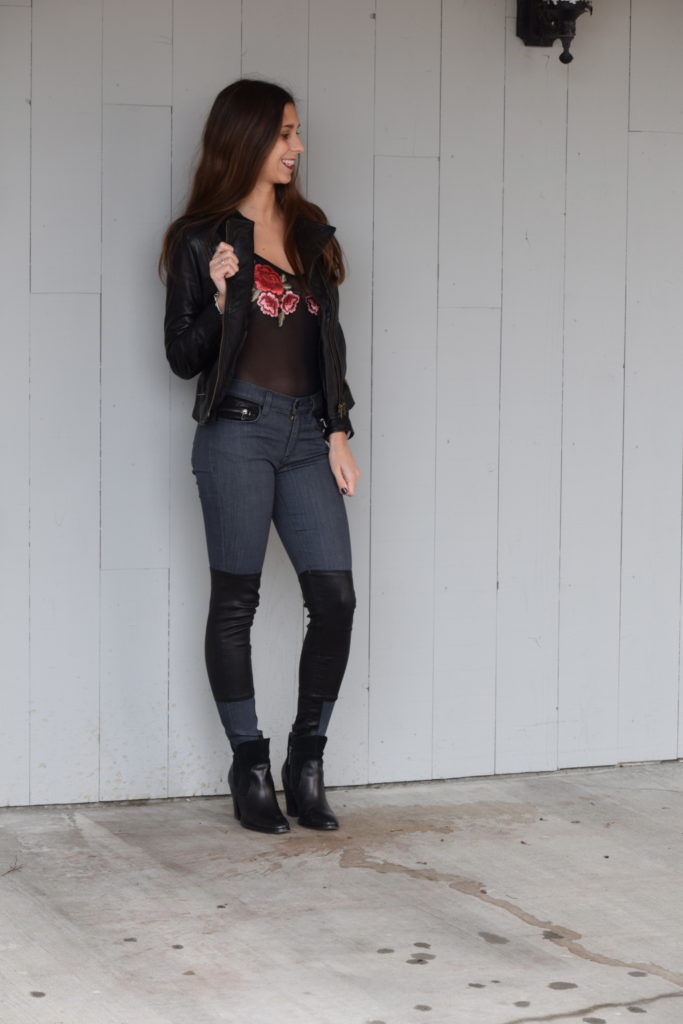 Add a bold jacket
We are all about the fur trend that is happening right now. For our second look we threw on a big bold faux fur coat. This took away from the boldness of the jeans and re-focuses your attention to the coat instead.
Slip-on statement shoes
We love how this pop of red and the bell sleeves really adds to these jeans and make the whole outfit look different. We are instantly drawn to the shoes because of the frill on the front of them. This outfit is also the perfect Valentine's Day date-night look!