So as you may remember last year Alex and I went to Italy and stayed in Florence and absolutely loved it. Well this year I got invited to go again with my boyfriends family since his younger brother was studying abroad and let me tell you it was all about the food this time!
When we went this time I decided to actually (semi) pay attention to where we ate so I could write a review on some great places to try if you ever head to Florence. Believe me we both highly suggest it, it is beautiful there and the shopping is beyond amazing!
DANTE
Last time I went to Italy I actually ate at this restaurant and it was unbelievable so I decided to recommend it and I was so happy we went. It is still my favorite restaurant so far in Florence. So it is fully called Trattoria Pizzeria Dante, but I have actually never tried their pizza. You can visit their site here.  For your appetizer I highly recommend the eggplant parm, its so rich and different then the states. We also got a mixed salad (basic I know), Farfalle Portofino (since I love everything pesto), a pasta with clams in it ( I don't see it on the online menu so I don't know the exact name), and of course the Traditional Florentine T-Bone Steak which is a must try when you are in Florence.
GUSTAPANINO
This was such a special meals because of the people that worked there. We got seated in the back since there was no room outside at our own private table. The owner ended up coming over and taking our order and stayed with us talking the whole night. For the appetizers he made us a plate with a little bit of everything off of the menu. There was this zucchini potato wedge with pesto on top that was amazing. I tried to get the recipe from him which obviously didn't work. For dinner I got the eggplant parm and my boyfriend got a burger (ha!) and we ended up splitting it. The beef in Florence is so different but so good. For dessert we got a strawberry cheesecake, so yummy. The owner (see below) actually sat and got his own dinner with us and talked and answered any of our questions which was really special to me. We later found out that he owns 4 restaurants in Florence (yes we went to them all) and was on Guys diners and drives!
GUSTA OSTERIA
Yup so we found out that all of the Gusta restaurants we went to were owned by the three brothers and honestly each one is different and delicious. Here I got the lasagna and tried some of the meatball. I don't normally go for lasagna because honestly it isn't my favorite but the one from here melted in my mouth. The meatball on the other hand was also good, it was just one giant meatball. I personally like my own meatballs better but thats just my preference since my homemade meatballs are delicious.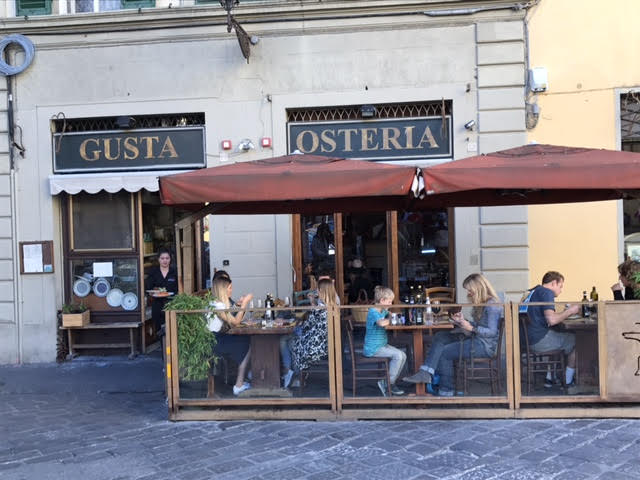 GUSTA PIZZA / PIZZERIA RIVA D'ARNO
Finally the last of the restaurants own by the brothers are these two pizzerias, yup we went to both. My favorite has to be the margarita pizza with the buffalo mozzarella on it. We ordered 3 pizzas for only 19 euros. Granted they aren't as big as the states but they are seriously filling.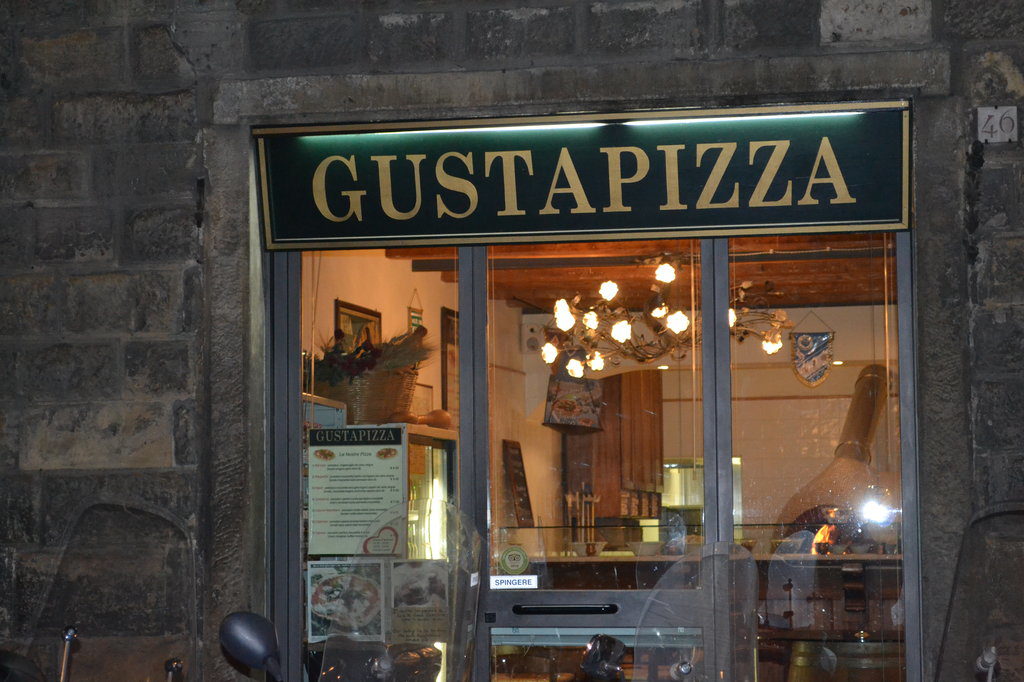 TRATTORIA MARIO
This is actually one of the most popular restaurants in Florence and is only open for 3 hours during the day. You have to get there right when it opens in order to get in or else you may be waiting up to an hour to get a spot. What I loved most about this place was that it was a family style restaurant, so depending on your group size you may get to sit with another group. What was also great is how in expensive everything was especially the wine. I got a soup and steak here but unfortunately didn't really get to enjoy it that much since this is where I spiked a fever and had to go back to the room.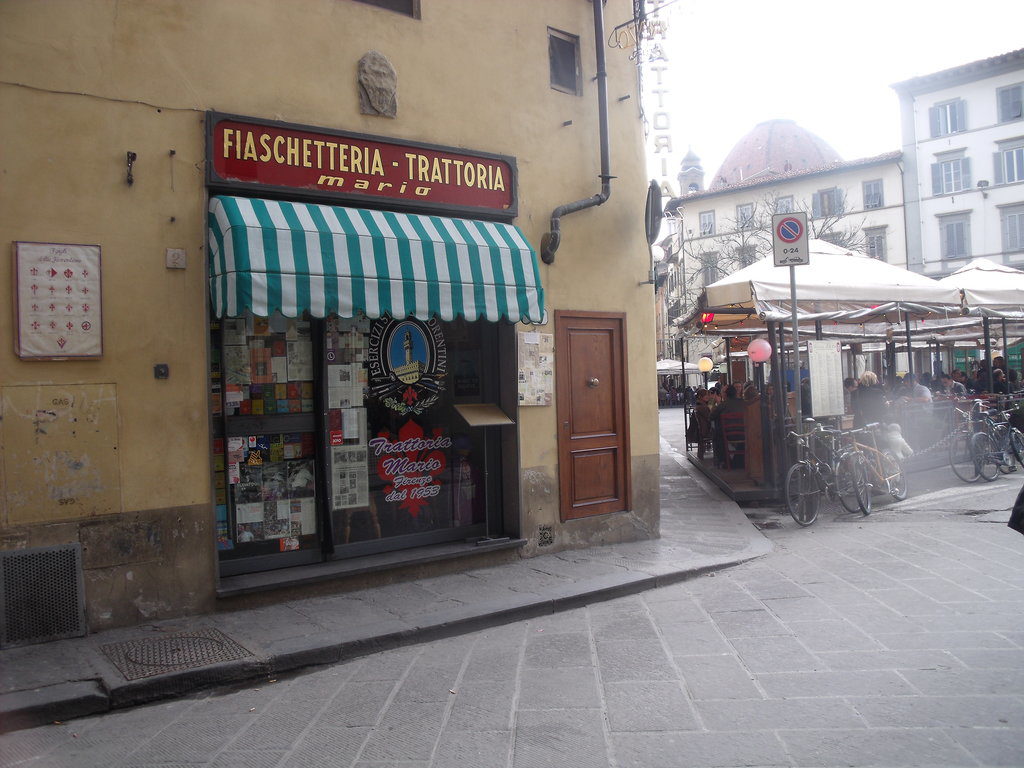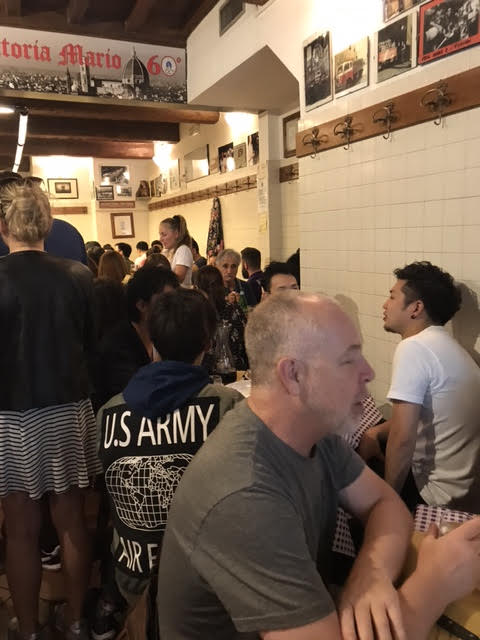 TRATTORIA BORGO ANTICO
This restaurant is in the same square as Gusta panino, the square is really cute with people walking around and playing music at night. This wasn't my favorite meal in Florence but it definitely was still delicious and a little heavy to be honest! I got the pasta with eggplant here, if you can't tell I am a little eggplant obsessed. We made a reservation since it is hard to get a table outside without one.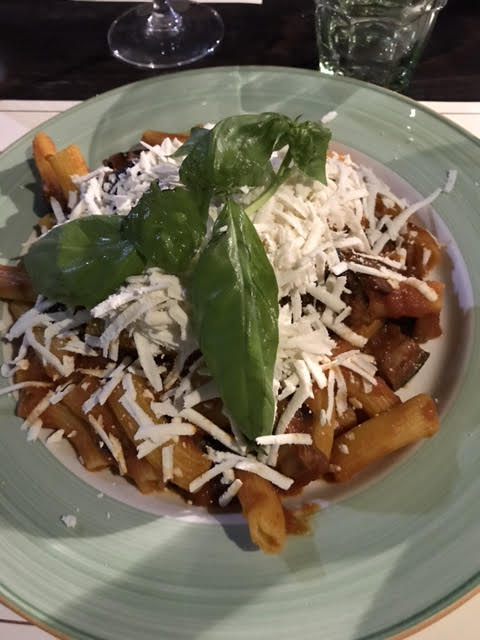 ALL'ANTICO VINAIO FIRENZE
So this place is absolutely known for their giant paninis. I actually split mine with a friend since they were way to big so unfortunately I didn't get a picture. We waited on line for 20 minutes to get one of these paninis that is how well known they are. They actually have two shops right across the street from each other. To be honest I didn't understand the hype around it. The bread for the panini was amazing but I didn't think it was the most amazing thing. Maybe if I added some pesto to it I would have loved it more, but it was still yummy and I would eat it again.
Gelato- LA CARRAIA
Obviously saving the best for last, Gelato! We went to this place almost every night when we were in Florence. There are a lot of gelato places in Florence but as they say the bigger the mounds of gelato the worst the place is (yes this is a real thing). This gelato place was seriously the best and always had a line at night so you know they are doing something right. My favorite was the strawberry cheesecake and the mixed berries.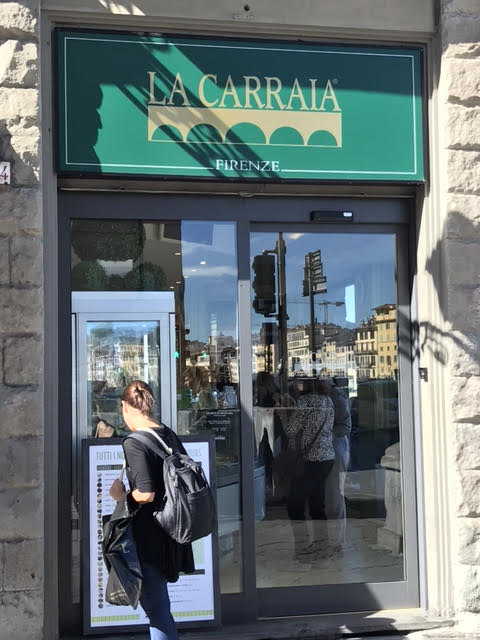 Hope this helps you to decided where to eat the next time you visit. Ciao for now!