We can't believe how quickly 2016 has come and gone but we are so excited to ring in the New Year and bring on 2017. 2016 definitely brought us a lot of ups and downs whether it was with the blog or in our personal lives.
We can't believe it has already been a little over a year and a half since we started Lively Craze. Our first year was probably our toughest, we wanted to see results right away but of course it doesn't happen like that. Going into our second year of blogging we really focused on the things that mattered to us and building friendships with other bloggers instead of us just focusing on constant growth. By staying true to ourselves we feel as though we grew naturally and created some amazing friendships (we wish some of you lived closer so we could actually meet up!). Here are some of our favorite memories from 2016.
Traveling Italy
We had planned a trip to Italy together and Alex's Grandpa asked to come along and show us more about where he is from. Although our original plans ended up getting altered a little it was so much fun and we learned so much about the little cities through out Italy. It was great to have someones who grew up in Italy show us the behind the scenes. We also got to go to a real Italian wedding which was so cool. Pictured below was the Cinque Terre and Florence, our two favorite places we got to see.
Being Featured
This year we were featured in a magazine and we also guest wrote a post about "How to balance a full-time job and your dream job". We have been featured on other small websites but these two we were most proud of this year!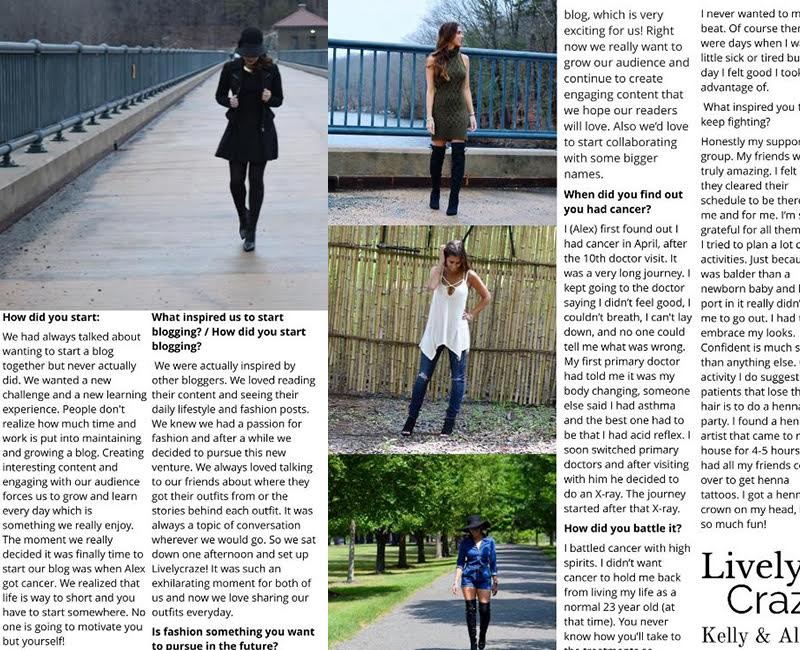 Working with Incredible brands
Never did we think we would work with brands like Daniel Wellington, Hanes,  Dezzal, Triangl, Mejuri, The Shine Project, and many more. We can't wait to expand our collaborations and continue our partnership with some brands we have worked with already.
Going into 2017 we are all about taking action. Here are some of our New Years Resolutions for Lively Craze:
Revamp our blog: We just redesigned our blog at our one year mark but to be honest we are already ready for something new so we hope to design a new layout soon!
Don't take on more than we can handle: October this year was out of control for us. We got so many requests to partner with brands, which we were so excited about, but we took on to many at once. Towards the end of the month we had to start saying no to some people because we were overwhelmed.
Partner with some great new brands: Well this one is a given, what blogger doesn't want to work with some great new brands 🙂
Fight less: Everything isn't as it seems, behind the scenes Alex and I sometimes argue because things do get overwhelming or life does catch up with us. Its never a big argument just little bickers but we hope to problem solve a little better in 2017.
Go to NYFW: We live about 45 minutes outside of the city so this February we are hoping to make it to some shows for NYFW. Who else plans on going?
Stay healthy and positive: Its has been about a year and a half since Alex has been cancer free and about 3 months since Kelly was in a major head-on car crash. We have both taken steps to try to stay healthy since these two major changes in our lives and we are there for each other through thick and thin. Kelly's mom is now battling stage 4 appendix cancer and will undergo surgery in March. There will be more tough battles to overcome in 2017 but your attitude toward the negative in life really makes all the difference. You have to stay positive through the tough times because negativity only brings you down more as well as everyone around you.
We hope everyone has a safe and happy New Year tonight!  Thanks for all your support through 2016.