Thinking of holiday outfits, what to pack and of course what to pack in. Read more for a full look or two!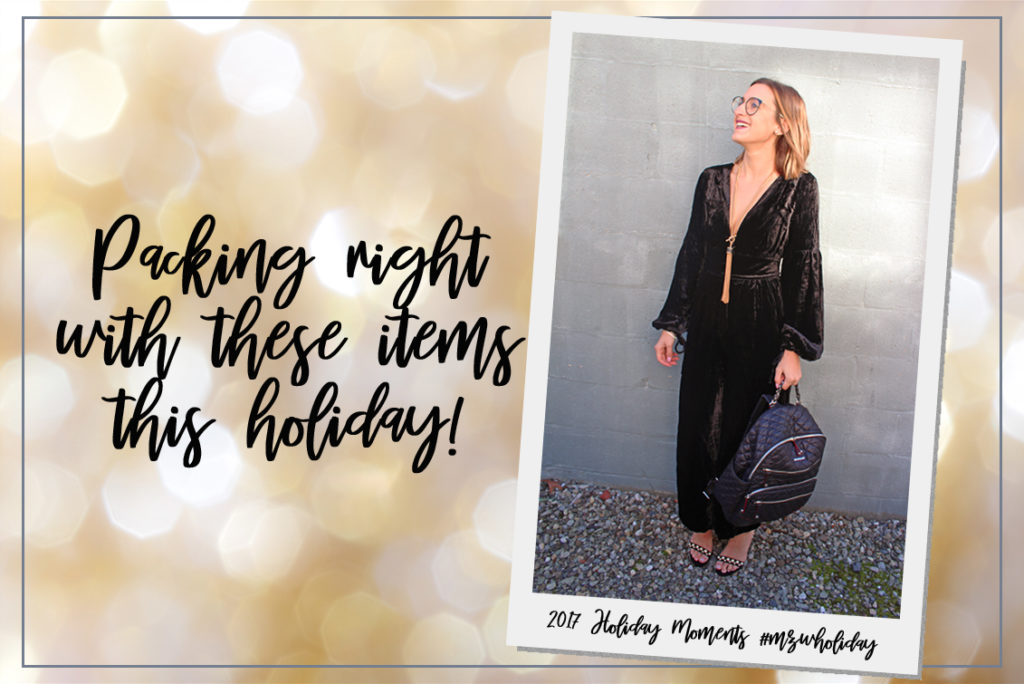 We are always trying to think of ways to help and we know a lot of you travel home for the holidays which usually means stressing out because you now have to think of not 1 but possibly 2-3 outfits and what to pack it all in. Well we have an easy solution thanks to MZ Wallace and their travel collection / Crosby styles and of course to whom ever invented jumpsuits. Not only will we give you some great options to shop from but reasons why too as well.
Why MZ Wallace Handbags
As you know this isn't the first time we have teamed up with MZ Wallace, a functional yet luxurious handbag company. Their bags really meet every women's needs whether she's a stay at home mom, world traveler, city commuter, or chill college girl because of their style and well designed layout. Last time we featured great nylon causal handbags that we wore all Summer, you'll probably see us wear them again for Spring too 😉 but for the holiday we thought to focus on HOME FOR THE HOLIDAYS and what would be super useful for that. So no matter what type of person you are from the list I listed before, everyone travels to whatever home is for you for the holidays and rather than being the crazy bag person why not try one of these. We focused in on their crosby collection too which featured their signature quilting detail but it's a little more edgier with their bold silver wear and raw red trim. If you don't have one yet you may want to put it on your wish list now and send it out too!
Here are some of our favorite travel picks:

Why Jumpsuits
Jumpsuits are like the winter dresses, it's easy, you don't have to worry about matching anything and most likely you'll be warm; especially your legs. Now we aren't just talking about the plain boring jumpsuit either, I mean it's holiday time for goodness sakes. We found some great VELVET options that give a luxe feel and will for sure keep you warm. Also we are pretty sure if you get different color ones and even different sleeve types you can just pack jumpsuits for your travel for the holidays, how easy is that. OH WAIT and did we forget to mention this huge selling point, you won't have to worry about your outfit being all wrinkled. It's really a win.
Here are some of our favorite velvet jumpsuit picks: