Halloween is approaching and I realized I haven't taken full advantage of what NY & CT areas have to offer in Fall, one being PUMPKIN picking! Today's post is all about being creative so read more to get some inspiration and get outdoors today!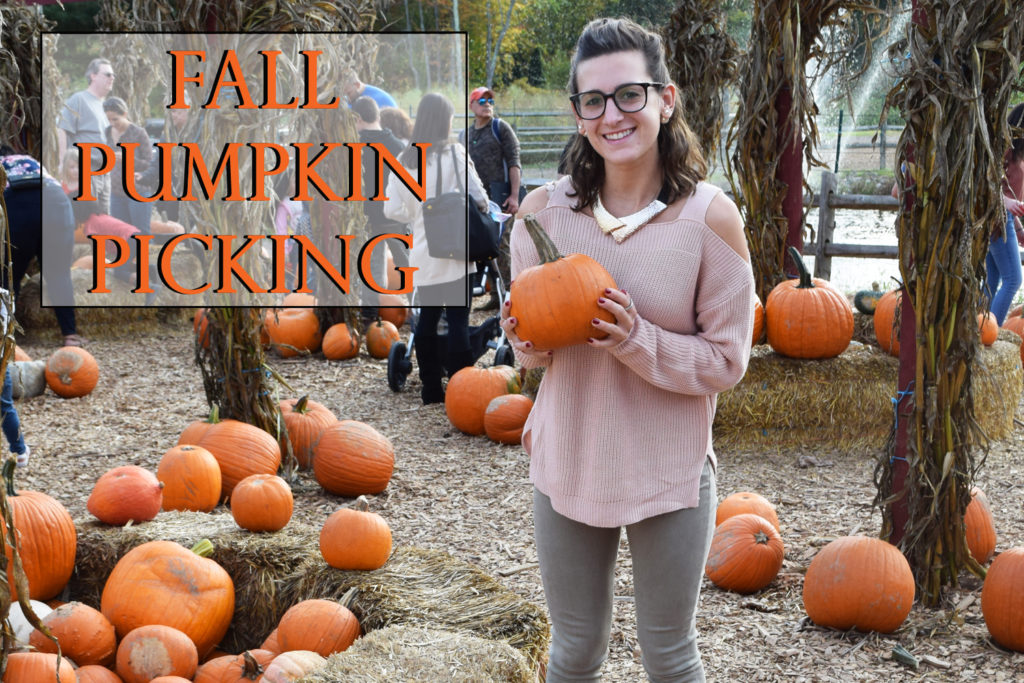 Believe it or not I actually have never been pumpkin picking. I've done the apple picking year after year and usually end up with too many and have to bring them into office and share. So this year I wanted to do something different and get creative with it, which means trying to carve them! I'll get to that later though. 😊
Picking a farm was the hard part. I didn't want to just go to any place where I just pick it out of a bin. I wanted to actually look around with a wagon and really find the perfect one; getting the full experience. So I did some googling. If you type in pumpkin picking orchids near me you'll get the standard list or you can go on pumpkinpatchesandmore.org and you'll get a good run down of orchids by county! I found this to be the most helpful. Two caught my eye off the back, Silverman's Farm & Jones Family Farms. Both had more to offer than just a pumpkin's which is what I liked. Also the drive to either one I knew would be beautiful so I was ready for the adventure.
I ended up going to Silverman's Farm over Jones Family Farm in the end because it was closer and because I ended up leaving late on Sunday and I didn't want to get there when it closed. With that being said, I still want to go to Jones Family Farm eventually because they have a whole wine tasting section as well. Maybe turn that into a late fall activity, especially with how this weather is going.
Silverman's Farm was a successful trip too. You get there and there is parking across the street that was FREE! Also they have garden wagons to use for FREE which I didn't realize we'd need one being first time pumpkin pickers. I highly suggest grabbing one too if there are any around. It was just helpful getting around and you didn't have to lug a pumpkin around the place and back to the car. They have a 5 acres farm, which I believe you have to pay for. I can't say much about the farm other than if I had children I can totally see going there for a day and doing everything they have to offer. But needless to say I didn't go into their farm. I strictly went there for the pumpkins but I do wish I knew they had a hayride that went through their beautiful hilly orchid because that's something I would of done. Next time I guess and I need to leave earlier. The best part though about this place was when you went to go pay if you guess the pumpkins weight you got it for FREE! So I was able to guess one out of three …and of course it was the 5 pound one but it's better than nothing. The other two, which were over 20 pounds cost a pretty penny so I was happy they accepted credit cards! But it was a nice way to end the outdoor activities. I was so off with guessing one of them. Oh wait you can't leave without stopping in their shop to grab one of their homemade pies.
SO WHAT CREATIVE THING TO DO WITH YOUR NEW PUMPKIN…
I always wanted to carve them and set them along a patio and that's what I will do! But how to carve, well I'm no expert but this is how we did it:
Cut the top off as it were a lid to the pumpkin, so we didn't cut exactly at the stem
Scope and carved out the inside and collected all the seeds
FUN TIP – collect all the seeds and bake them. Either bake them with herbs and olive oil or make them sweeter with some cinnamon and butter!
Draw an outline of your design. I started with sharpie but realized pen worked and it was better. I liked switching to the pen because it was a thinner line and if we didn't cut exactly on the line we could wash it off whereas the sharpie you better cut on that line or over.
You can buy the pumpkin kits but of course I was too late so we used varied knife sizes in the drawer. I suggest using different sizes too so you can carve all those rounded corners easier.
HELPFUL TIP – Also if you are carving a big section, carve it out in chunks rather than trying to do the whole piece. One you'll create more room for you to move your knife with ease and you'll get an idea how it will look.
Last step, carve a square out of the bottom to the size of your candle, this way you place your pumpkin over your candle and don't burn yourself!
All this pumpkin-ing was a great way to spend my Sunday.  I will be carving the big pumpkins this week so I'm excited for that because I will be attempting to do a turtle! But if you have guests in town or want to do something with the family or friends this is a great activity.
Buy our pumpkin picking look here: