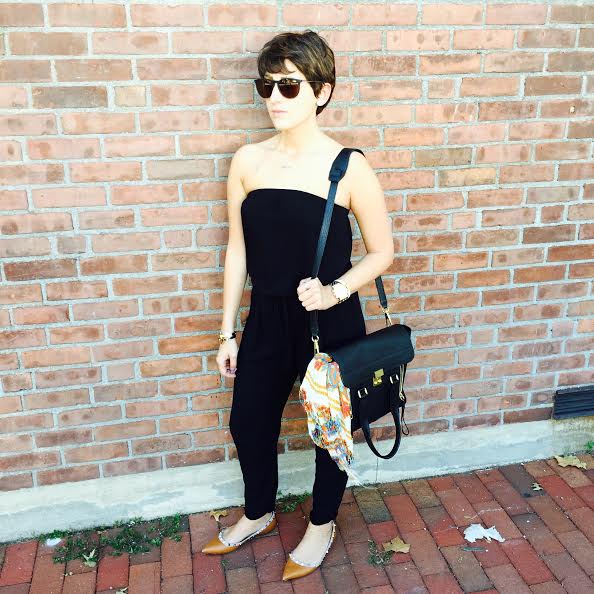 Another hot day in mid September and our Fall clothing are just hanging out waiting to be worn. We are sure we aren't the first blogger to be saying this but we are so ready for it too cool down. Our closets are at full capacity of new Fall items (that's a lie there's always room for more) and seriously we can't wait to wear everything. This time of the year is always weird though, all the new items are coming out, you're still figuring out the trends for the year and which ones you really want to pursue and the weather is always all over the place. In the morning it feels like & smells like Fall so you layer like crazy and the next thing you know mid day its 80 degrees and you're miserable.
Today was one of those days but I refused to go back to tanks and shorts; so as always I relied on my [Velvet by Graham & Spencer] jumpsuit. A black jumpsuit is a must I think in every closet because it's a great go to for transition time such as right now — Summer to Fall. During this period you're anticipating colder weather but it's still kind of warm with no humidity; so what do you wear – a black jumpsuit, see it makes sense now! Another great feature about this outfit is that it's so versatile and you can never go wrong when wearing black!
I wanted a simple yet chic look so I went with an all black look with pops of brown. I paired it with my new and fabulous [Pashli Satchel] and of course my obsession, my [Rockstud Flats]. My bank account doesn't agree but I think no girl could ever own to many Valentino flats/shoes. The flats are true to size and very comfortable for a very pointy toe. The Pashli Satchel by 3.1 Phillip Lim is a sleek and edgy bag. It's on the heavier side but you have the shoulder strap option when it starts to hurt your arms. It also fits everything I need for everyday. Combined this completed my Black & Brown look.