After my recent shopping spree (that I'm still paying off) I noticed a trend in my shopping bag… ankle length dresses. Read here why we love them and to shop some of our favorite styles.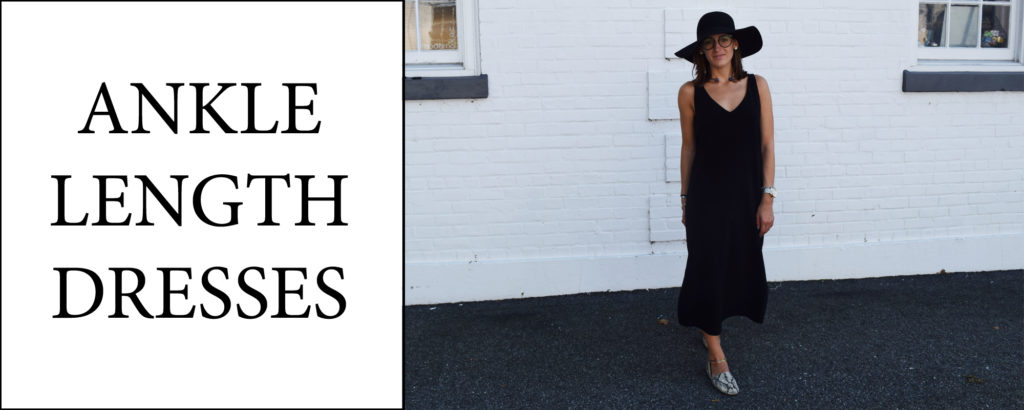 I've noticed myself gear more towards longer dresses recently but not full maxi length, more ankle length/midi length. I remember this being huge two summers ago too but I refused to try the trend because I didn't think I could rock it to be honest. Now I think I finally figured it out! Better late than never.
Some reasons why I love this midi length would mainly be because of its versatility. I feel like it is great when transitioning within the seasons. For example with this crazy September and October weather, the ankle length dresses has come in handy for work when I don't know what to wear and on the weekends when I'm out all day. For work, I don't have to worry about stockings, it looks cute with flats or heels and a cute jean jacket. For the weekends, if I'm out all day I feel like this length works perfect for an all day look. So from brunch to dinner it will be great, especially if you dress it up with a cute Fall hat like I did.
Also all the neck line, sleeve length and patterns they have you can't go wrong with something classic or with more of a fashion piece. I guarantee you will wear it a lot for the rest of the season. Now i'm in the market for a long sleeve ankle length dress so next on the blog will hopefully be me sharing some of my favorite long sleeve ankle length finds! Fingers crossed…
For me right now though, I love wearing this black ankle length dress with my jean jacket like I said or even with a cute crew neck sweater over it. There is really so many ways to style this look which is why I think I was so attracted to it. Also, of course since I loved the silhouette so much I had to get it in the baby blue as well. I linked both down below.