Everyone has those certain sweets every year that are tradition and you can't wait to make. Well these two cookies are my two favorites that I love to bake with my mom!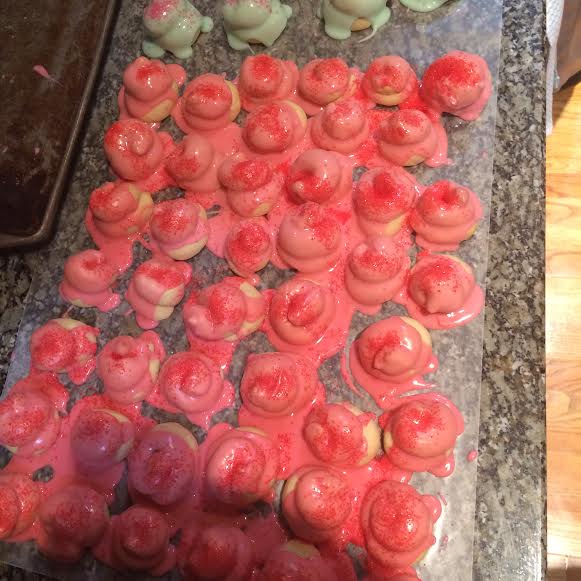 Swirl Cookies (or beehives)
Makes about 80-90 cookies
Ingredients: 6 eggs                           5-6 cups of flour
1-cup sugar                    4 tsp. baking powder
2 sticks of marg             2 tsp. vanilla
Directions: Blend marg. Sugar and eggs. Beat well. Add vanilla and beat. Add flower and baking powder remove from mixer and knead with your hands. Take a pieces of dough. Roll about 2-3 inches and form a beehive. Bake 370 for 10-15 minutes
Icing: confectionary powder sugar with milk. Vanilla if you would like
(How to form the beehive above)
Butter press cookies
2 sticks (8 ounces) unsalted butter
1 cup confectioners' sugar
1 teaspoon pure vanilla extract
1/2 teaspoon almond extract
1 large egg
2 1/4 cups all-purpose flour
1 teaspoon baking powder
Sprinkles, for garnish
Special equipment: cookie press (a.k.a. spritz gun)
Preheat the oven to 350 degrees F. Beat the butter and sugar with an electric mixer in a large bowl until light and fluffy, about 5 minutes. Add the vanilla and almond extracts and the egg and mix to incorporate; don't worry if the mixture seems to separate.
Sift together the flour and baking powder and add to the creamed butter. Mix until combined. Using a cookie press, press the cookies onto ungreased baking sheets. Top with sprinkles of your choice. Bake until firm but not yet browning, 6 to 8 minutes. After a few minutes, move cookies to a rack and cool.